Mindfulness-based treatment of addiction: current state of the field and envisioning the next wave of research
Addiction Science & Clinical Practice
2018
13:14
Received: 16 December 2017
Accepted: 7 April 2018
Published: 18 April 2018
Abstract
Contemporary advances in addiction neuroscience have paralleled increasing interest in the ancient mental training practice of mindfulness meditation as a potential therapy for addiction. In the past decade, mindfulness-based interventions (MBIs) have been studied as a treatment for an array addictive behaviors, including drinking, smoking, opioid misuse, and use of illicit substances like cocaine and heroin. This article reviews current research evaluating MBIs as a treatment for addiction, with a focus on findings pertaining to clinical outcomes and biobehavioral mechanisms. Studies indicate that MBIs reduce substance misuse and craving by modulating cognitive, affective, and psychophysiological processes integral to self-regulation and reward processing. This integrative review provides the basis for manifold recommendations regarding the next wave of research needed to firmly establish the efficacy of MBIs and elucidate the mechanistic pathways by which these therapies ameliorate addiction. Issues pertaining to MBI treatment optimization and sequencing, dissemination and implementation, dose–response relationships, and research rigor and reproducibility are discussed.
Keywords
Automaticity
Addiction
Dissemination
Dose–response
Mindfulness
Review
Reward
SMART
Background
Advances in biobehavioral science occurring over the past several decades have made significant headway in elucidating mechanisms that undergird addictive behavior. This large body of research suggests that addiction is best regarded as a cycle of compulsive substance use subserved by dysregulation in neural circuitry governing motivation and hedonic experience, habit behavior, and executive function [1]. Though findings from the basic science of addiction have yielded novel treatment targets that may inform the development of promising pharmacotherapies, the behavioral treatment development process often lags behind the ever-accelerating pace of mechanistic discovery. In that regard, the mainstays of behavioral addictions treatment, cognitive-behavioral therapy and motivational interviewing, were developed decades ago and prior to the current understanding of addiction as informed by neuroscience. Yet, to the extent that behavioral therapies target dysregulated neurocognitive processes underlying addiction, they may hold promise as effective treatments for persons suffering from addictive disorders.
Contemporary developments in addiction neuroscience have been paralleled by increasing interest in the age-old mental training practice of mindfulness meditation as a potential treatment for addictive behavior. This interest was sparked by the successful integration of mindfulness techniques into secularlized behavioral intervention programs, including Mindfulness-Based Stress Reduction (MBSR) [2] and Mindfulness-Based Cognitive Therapy (MBCT) [3]. Standardized mindfulness training programs were originally focused on reducing emotional distress, and indeed, for psychiatric disorders and symptoms mindfulness-based interventions (MBIs) have been shown through meta-analysis to be efficacious and comparable to other active, head-to-head treatments [4]. More recently, MBIs like Mindfulness-Based Relapse Prevention (MBRP) [5] and Mindfulness-Oriented Recovery Enhancement (MORE) [6] have been tailored to directly to address the mechanisms that undergird addiction. A growing body of controlled research studies demonstrates that MBIs may produce significant clinical benefits for users of a panoply of addictive substances, including alcohol, cocaine, nicotine, and opioids. The aims of this report were to operationalize the construct of mindfulness with respect to therapeutic processes that mediate its potential efficacy; review the current state of research on mindfulness as a treatment for addiction; and to envision the next wave of research in this emerging and important field. With regard to setting a future research agenda here we highlight issues related to: research rigor and reproducibility; treatment optimization based on mechanistic discoveries; the sequencing of MBIs in multimodal treatment packages; the need to consider dose–response relationships; the translation and dissemination of MBIs into standard, community-based addiction treatment settings; and the possibility of construing mindfulness as an integral component of a recovery-oriented lifestyle rather than a time-limited treatment.
Mindfulness as a means of targeting mechanisms of addiction
Mindfulness operationalized
Derived from ancient Indo-Sino-Tibetan contemplative practices and philosophies concerning the cultivation of awareness, the construct of mindfulness has been alternately operationalized as a state, trait, and practice in the modern scientific literature. MBIs provide training in practices designed to evoke the state of mindfulness—i.e., a state of metacognitive awareness characterized by an attentive and nonjudgmental monitoring of moment-by-moment cognition, emotion, sensation, and perception without perseveration on thoughts of past and future. The practice of mindfulness has been proposed to involve two primary elements: focused attention and open monitoring [7, 8]. During the practice of focused attention, attention is concentrated on a sensory object (often the sensation of breathing, but interoceptive and proprioceptive body sensations or external visual foci can also be used) while one acknowledges and then disengages from distracting thoughts and emotions. Focused attention practices often precede the practice of open monitoring, in which one observes both the arising of mental contents as well as the field of awareness in which those contents arise [7]. Open monitoring is a metacognitive state of awareness in the sense that it involves monitoring the content of consciousness while reflecting back on the process or quality of consciousness itself. This form of mindfulness practice is thought to reduce emotional reactivity by revealing the insubstantiality and ephemerality of any particular content of consciousness. Neuropsychological models of focused attention and open monitoring have mapped these practices onto systems of interacting cognitive processes, including sustained attention, attentional re-orienting, conflict monitoring, retaining information online in working memory, inhibitory control, and emotion regulation [8]. Although focused attention and open monitoring have been distinguished in the scientific literature, in practice they are often combined, such that mindfulness practices typically begin with focused attention and then develop into open monitoring as the meditation session unfolds over time.
Frequent and regular practice (e.g., daily) of mindfulness techniques is thought to cultivate durable changes in the trait-like propensity to be mindful in everyday life (i.e., dispositional or trait mindfulness) even when one is not engaged in meditation practice [9]. This increase in trait mindfulness is theorized to occur through neurocognitive plasticity kindled by repeated activation of the state of mindfulness during recurrent mindfulness practice sessions [10]. In partial support of this hypothesis, increases in the trajectory of state mindfulness produced over time through meditation predicts increases in trait mindfulness [11], and meta-analysis demonstrates that the effects of MBIs on clinical outcomes are mediated by increases in trait mindfulness [12]. Further, meta-analysis of morphometric neuroimaging suggests that increased practice of mindfulness meditation is associated with neuroplastic changes in brain structure [13]. According to operationalizations of the construct derived from factor analytic research, dispositional or trait mindfulness is characterized by the capacity to remain nonreactive to and accepting of distressing thoughts and emotions; observe interoceptive and exteroceptive experience; discriminate emotional states; and be aware of automaticity [14]. These mindful qualities may serve as antidotes to addictive behavior; indeed, trait mindfulness, which has been correlated with enhanced cognitive control capacities [15], is significantly inversely associated with substance use [16] and craving [17], and positively associated with the ability to disengage attention and recover autonomic function following exposure to addiction-related cues [18, 19]. In contrast to trait mindfulness, which is associated with cognitive and behavioral flexibility, addiction may be characterized by mindlessness [20], i.e., habitual or stereotyped responses that may be executed automatically without conscious volition or strategic regard for distal consequences. In light of Tiffany's classic description of addiction as the product of automaticity [21], mindfulness of one's automatized behavioral and emotional reactions may allow for greater self-regulation of habitual addictive behavior. Thus, mindfulness practice may evoke the state of mindfulness that accrues with each meditation practice session into a durable propensity to exhibit the trait of mindfulness in everyday life, thereby suffering as a buffer against addictive behavior.
Mindfulness-based interventions for addiction
The most prominent MBIs (i.e., MBRP, MORE, mindfulness training for smokers) for addiction were modeled after the first generation of mindfulness-based therapies like MBSR and MBCT in terms of their structure and format. MBIs for addiction tend to be multi-week interventions (approximately 8 weeks in duration) usually delivered in a group therapy format. Each week, participants are guided by a trained clinician in various mindfulness practices, including mindful breathing and body scan meditations. These in-session mindfulness practices are debriefed during a subsequent group process, after which new psychoeducational material is typically presented. Sessions often involve experiential exercises to reinforce the mindfulness principles that had been introduced didactically. Participants are given therapeutic homework, consisting of formal and informal mindfulness practices as well as assignments to self-monitor symptoms like craving and negative affect. Extant MBIs for addiction differ from one another in terms of the types of mindfulness practices taught, the style in which these practices are delivered and debriefed (e.g., MBRP uses open, non-directive inquiry whereas MORE employs a directive approach with a high degree of positive reinforcement), the length of at home mindfulness practice sessions, and the specific psychoeducational content delivered.
MBIs for addiction are usually tailored to address pathogenic mechanisms implicated in addiction by targeting mindfulness techniques to addictive behaviors (e.g., mindfulness of craving) and by discussing the application of mindfulness skills to cope with addiction in everyday life. For instance, MORE participants are guided to engage in the "chocolate exercise"— an experiential mindfulness practice designed to increase awareness of automaticity and craving [6]. During this exercise, participants are instructed to hold a piece of chocolate close to their nose and lips and become mindful of the arising of craving as they refrain from eating the chocolate. During this exercise, a comparison is made between the urge to swallow the chocolate and craving for addictive substances. Participants are then guided to adopt a metacognitive stance toward their experience and deconstruct the craving into its constituent sensory, affective, and cognitive components, noticing how the craving subsides over time. Through this technique, clients learn to consciously and adaptively respond to the urge to use substances rather than automatically reacting to appetitive cues in maladaptive ways. Such tailoring is presumed necessary for maximizing clinical effects of MBIs as treatments for addiction, though no quantitative comparisons of tailored (e.g., MBRP) versus general (e.g., MBSR) MBIs have been conducted for individuals with substance use disorders. Comparative effectiveness research or dismantling trials are needed to determine whether such addiction-specific tailoring increases effect sizes.
Therapeutic mechanisms of mindfulness as a treatment for addiction
In a mechanistic theoretical account of mindfulness as a treatment for addiction, Garland, Froeliger, & Howard conceptualized MBIs as means of mental training designed to exercise a number of neurocognitive processes that become dysregulated during the process of addiction [22]. Such mental training is provided by focused attention and open monitoring mindfulness practices, which in isolation and in tandem are thought to exercise processes crucial to the self-regulation of addictive behavior such as attentional re-orienting, metacognition, reappraisal, and inhibitory control [8].
From this perspective, MBIs can been seen as behavioral strategies for strengthening the integrity of prefrontally-mediated cognitive control networks that have become atrophied by chronic drug use and hijacked by drug-related cues and cravings during the process of addiction. As adaptive cognitive control is restored through mindfulness exercises, MBIs may increase functional connectivity between these top-down prefrontal networks and bottom-up limbic-striatal brain circuitry involved in reward processing and motivated behavior [
22
]. Increased connectivity between top-down and bottom-up brain networks implicated in addiction (e.g., frontostriatal circuitry) may provide the physiological substrate through which mindfulness de-automatizes addictive behavior. Figure
1
depicts hypothesized neural functional mechanisms of MBIs for addiction. By augmenting the capacity of the PFC to regulate subcortical brain networks in a goal-directed manner, MBIs may strengthen a domain general neurocognitive resource that can be used to modulate a variety of mechanisms implicated in addiction, including reward processing, cue-reactivity, stress reactivity, etc. These hypothetical behavioral mechanisms are depicted in Fig.
2
, and evidence for these mechanisms is reviewed below.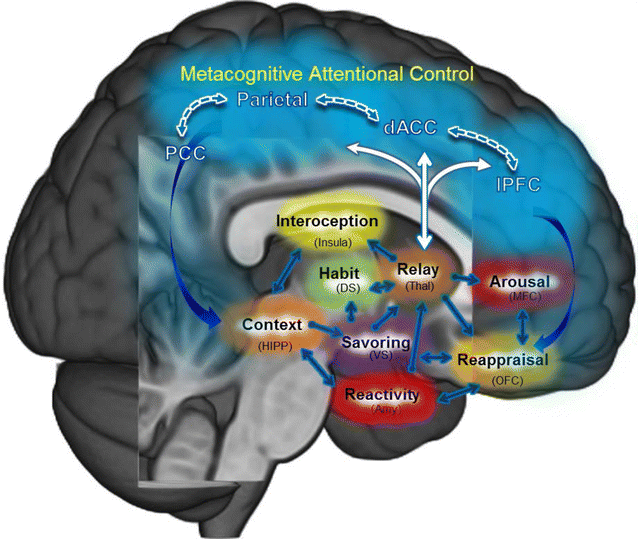 Current state of the field: a review of clinical outcomes of mindfulness-based treatments for addiction
A considerable body of findings has amassed supporting the capacity of MBIs to reduce substance use and attenuate factors promoting substance use, such as craving and stress. Over the past decade, multiple systematic reviews have been conducted to identify the effects of MBIs on addictive behaviors, and have found accumulated evidence for the positive effects of MBIs [61–63]. More recently, a meta-analysis focused on the broad clinical efficacy of MBIs for a range pf psychiatric disorders conducted subgroup analyses to examine the effects of MBIs on addiction/smoking and found MBIs to be superior to active control conditions and comparable to other evidence-based treatments [4]. In the only published meta-analysis solely focused on MBIs for substance misuse, Li, Howard, Garland, McGovern, and Lazar [64] identified 34 randomized controlled trials differing in terms of the types of MBI and comparison groups contrasted, sample demographics, and measures of outcomes and other constructs. Despite the notable methodological heterogeneity of these investigations, the authors concluded that "virtually all studies found that mindfulness treatments were associated with superior treatment outcomes at posttreatment and follow-up assessments compared to comparison conditions" (p. 69). Effects (Cohen's d/odds ratios) ranged from moderate-to-large across the synthesized effect sizes computed for studies within the substance use (d = 0.33, − 0.49 to 0.17, p < 0.05), cigarette smoking (OR = 1.76, 0.99–3.15, p = 0.056), craving (d = 0.68, − 1.11 to − 0.025, p < 0.01), and stress (d = 1.12, − 2.24 to –0.01, p < 0.05) domains.
With regard to secondary or mechanistic outcomes, as expected, MBIs produced significant increases on the Five Factor Mindfulness Questionnaires in all eight studies that used this measure (d = 0.62, − 0.02 to 1.26, p = 0.057). In individual studies, MBIs produced a host of other significant salutary effects including increases in emotion regulation [41, 54], substance-related self-efficacy [65, 66], and positive emotions [33], as well as decreases in attentional bias [52, 66, 67], addictive automaticity [66], dysphoric affect [40, 66], and pain severity and related functional interference in patients with chronic pain [41]. Several studies reported positive associations between the degree to which participants engaged in mindfulness homework exercises and changes in cigarette, marijuana, and alcohol use posttreatment (e.g., [68–70]).
Of the 34 RCTs reviewed in this meta-analysis, ten used treatment-as-usual comparison groups, whereas two used inert comparison groups, sixteen employed an alternative psychotherapeutic treatment (typically matched to the MBI group vis-à-vis intensity, duration, and format), and six examined brief mindfulness treatments compared to alternative therapies in laboratory settings. Twenty-eight of the reports presented the first published findings from the related study and six reports presented results of secondary analyses. Any given study could contribute findings only once to meta-analyses conducted within outcome domains. The adequacy of randomization was examined in all studies and analysis of covariance and linear mixed modeling were often used to control for any remaining pretreatment differences. Nearly half of the studies had samples sizes less than fifty. Many studies had high attrition rates at posttreatment and subsequent follow-ups. Most of the 34 studies reviewed relied extensively on self-report measures of substance use and other constructs. All RCTs examined were single-site studies. The most common methodological limitations were failure to interview collateral informants regarding study participants' substance use behaviors at posttreatment and follow-up and to employ posttreatment and follow-up interviewers who were blind to participants' treatment assignments. Fewer than half of the RCTs employed objective verification of participants' self-reported substance use, such as urinanalysis.
Subgroup analyses within outcome domains indicated that MORE treatment was associated with larger effects than other MBIs for substance use, craving, stress, and mindfulness measures [64]. Studies comprised entirely of men also reported larger effects for MBIs compared to studies with samples comprised only of women or those with mixed gender samples across measures of craving, stress, and mindfulness.
Li et al. [64] also reported findings from a random effects meta-regression analysis examining effects of MBI type, primary type of substance misused, study sample size, sample age and gender distributions, type of comparison group, treatment dosage in hours, and study methodological rigor on effect sizes by domain. Results indicated that studies with samples of only men experienced larger reductions in levels of craving and stress, and significantly larger increases in levels of mindfulness, compared to studies with samples comprised only of women or studies with samples comprised of women and men. Although the authors did not include a formal search for "gray literature" related to MBI treatment of substance misuse, they noted that funnel plots and Egger's test analyses suggested that their findings were not likely due to publication bias.
Randomized controlled trials suggest that MBIs are a promising treatment for substance misuse and exert their effects via increases in levels of mindfulness across a wide array of substance-misusing behaviors and clinical populations. Future research should employ larger samples, longitudinal designs with follow-up periods of at least 1-year, manualized interventions with treatment fidelity assessment, intent-to-treat analyses, and probability sampling designs allowing generalizability to specific clinical and general populations.
Laying out a research agenda
Conclusion
The study of mindfulness as a treatment for stress and chronic pain is more than 30 years old, and researchers have investigated mindfulness as a treatment for depression for more than two decades, yet it is only in the past 10 years that research on MBIs for addiction has proliferated. This is a young scientific field, and more research is needed to elucidate the clinical outcomes and mechanisms of this promising new treatment approach for addictive disorders. One recent meta-analysis [64] indicates that MBIs produce statistically significant effects on craving (pooled Cohen's d = 0.68) and substance misuse (pooled Cohen's d = 0.33), suggesting that MBIs may be efficacious treatments for addiction. Overall, a number of RCTs with active control conditions have been conducted in the past decade—a sign that the methodological rigor of this field is increasing. However, with several notable exceptions (e.g., [40, 91, 92]), few studies of MBIs for addiction have had large enough sample sizes to ensure the robustness and reproducibility of clinical outcomes. Moreover, few long-term follow-ups have been conducted to assess the durability of observed treatment effects. In addition, as indicated earlier, little is known about mediators and moderators of MBIs for addiction, although understanding how and for whom MBIs work is crucial to the overall evolution of this therapeutic approach. Lastly, research is needed to situate MBIs into treatment sequences with high external validity that adaptively address the needs of responders and non-responders in a way that can be realistically implemented in community-based treatment settings. Thus, the nascent field of mindfulness treatment for addictive behaviors remains open to rigorous, scientific exploration and in need of innovative research questions and methodologies.
Coming full circle, MBIs are some of the newest additions to the armamentarium of addictions treatment. It is perhaps no coincidence that the rise of MBIs has been co-incident with advances in the neuroscience of substance use disorders. In recognizing that addiction is, in large part, mediated by cognitive and behavioral automaticity propelled by alterations to hedonic regulatory systems in the brain, this perennial form of human suffering may be especially tractable to treatment approaches like mindfulness that enhance top-down conscious control over bottom-up automatic habits and motivational drives. Insofar as the original purpose of many mindfulness meditation practices was to extinguish craving by revealing the "middle way" between attachment to pleasure and aversion to pain, MBIs may ultimately provide a skillful means of liberating the individual from the push and pull of hedonic dysregulation underlying addiction.
Declarations
Authors' contributions
ELG and MOH conceived the manuscript and wrote the final draft. Both authors read and approved the final manuscript.
Acknowledgements
Not applicable.
Competing interests
The first author (ELG) developed the Mindfulness-Oriented Recovery Enhancement (MORE) intervention, and has received income from the MORE treatment manual (Garland, 2013) and therapist trainings.
Availability of data and materials
Not applicable.
Consent for publication
Not applicable.
Ethics approval and consent to participate
Not applicable.
Funding
ELG was supported by NIDA Grant R01DA042033 (PI: Garland) and NCCIH Grant R61AT009296 (PI: Garland) during the preparation of this manuscript.
Publisher's Note
Springer Nature remains neutral with regard to jurisdictional claims in published maps and institutional affiliations.
Open AccessThis article is distributed under the terms of the Creative Commons Attribution 4.0 International License (http://creativecommons.org/licenses/by/4.0/), which permits unrestricted use, distribution, and reproduction in any medium, provided you give appropriate credit to the original author(s) and the source, provide a link to the Creative Commons license, and indicate if changes were made. The Creative Commons Public Domain Dedication waiver (http://creativecommons.org/publicdomain/zero/1.0/) applies to the data made available in this article, unless otherwise stated.
Authors' Affiliations
(1)
Center on Mindfulness and Integrative Health Intervention Development, University of Utah, Salt Lake City, USA
(2)
University of North Carolina at Chapel Hill, Chapel Hill, USA